Last Wednesday I shared this sneak of some supplies I had pulled for a new layout:
It took me a while to start working on it for two reasons. First, my initial sketch ideas all seemed to gravitate towards designs that work best with portrait oriented photos and my photo was landscape oriented. Second, I wanted a design that had flow and avoided the boxy feeling (I've been working with a lot of squares lately, it seems). Then I realised I could adapt one of the sketches from Shimelle's
Hitchhiker's Guide to Scrapbooking
by using a large doily and after that, everything fell into place.
When I put these papers together, I immediately thought of using this photo. I didn't even remember what the colours were, although it was probably a sub-conscious realisation. I also wanted to use this lovely, bold floral paper from Oxford Lane. I'm not one to often use floral designs - I'm more of a geometric girl - but it's so pretty and I like a challenge so I cut it into a circle to lay inside the doily. I wanted to cover the seam between the paper and doily but didn't have any great ribbon choices so I decided to hand stitch using a fancier embroidery stitch - the chain stitch. It adds such wonderful texture and dimension to the page and really draws in your eye - here's a detail shot:
I also thought I would carry the floral theme into the embellishments - also not something I normally do but I was recently sent some pretty Martha Stewart large flower embellishments and I have a few flowers left in my stash I thought I would use up. In the end, I didn't use either of those but instead used this pretty fabric flower, which I paired with a felt bracket that I cut up to look like extra leaves. I also painted some gold Stickles into the flower's center and leaves to liven up the white space inside the flower.
As it turns out, EP's Here & Now collection actually matches the turquoise, lime and yellows of Oxford Lane quite well so I used the element stickers to embellish a second cluster on the diagonal. I liked how the cloud stickers had floral motifs in them, then added some arrows and butterflies. I added more gold Stickles to the large yellow butterfly and to some random dots on the floral background paper.
I wanted to keep the rest of the page simple and airy so I used a banner strip for the title, ran a little embroidery floss along it and used a label to contain my journaling. I also stamped the date and a sentiment along the right border and then drew a fine doodling line around the other three sides, because the design was feeling like it lacked grounding.
Want to try chain stitching on your pages, too? I made a short video to help show you how.
Now, if you like the look of the chain stitching and also like to hand stitch on your pages but have only used the running and/or back stitches, I would encourage you to try some more decorative stitches! They really add pizzazz to a page and while they often look complicated, many are in fact very simple and transfer well to paper stitching. You can find a plethora of embroidery stitch photo tutorials from
Sarah's Hand Embroidery Tutorials
and here are a half dozen beginner level stitches to get you started:

Arrow Head Stitches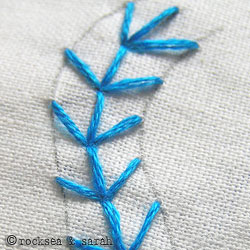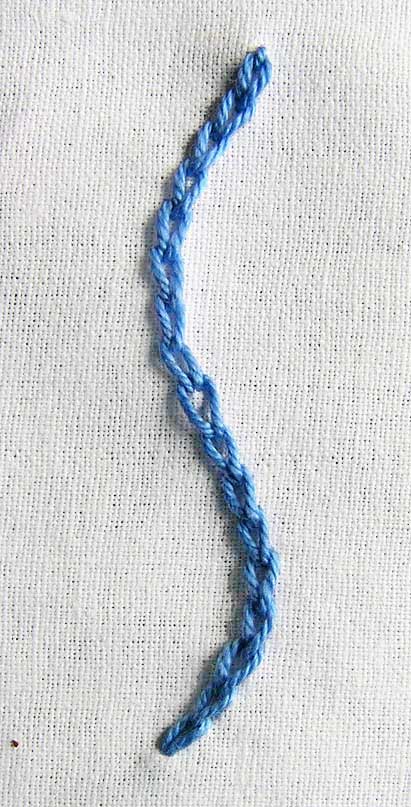 Blanket Stitches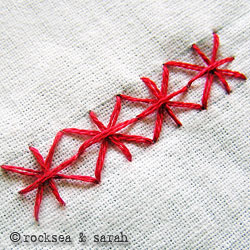 Thanks for joining me today and I hope I've inspired you to try some stitching on your next page and if you do, I'd love to see it.